For some reason I just really love abandoned farm buildings.
I want to live here. This is perfect.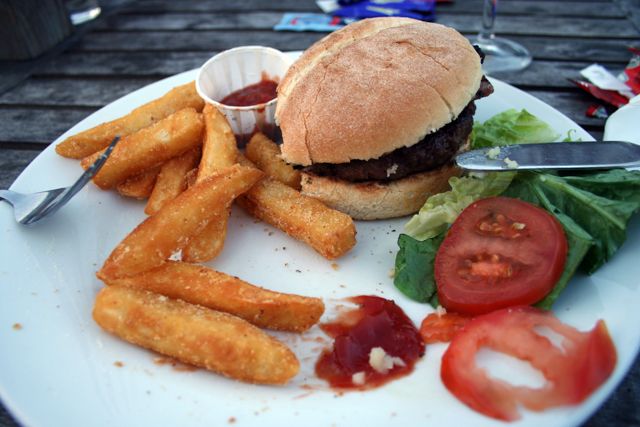 I have no idea what they did to these chips but the best chips I have ever eaten.
Saturday was a quiet one, spent most of the day in the library working on an essay. I hate being inside when the weathers fantastic, but needs must and I had a super-productive day. I don't usually like to work at the weekends if I don't absolutely
have
to, but I woke up feeling all kinds of motivated so I made the most of it!
Sunday was spent exploring the Peak District with the rest of the ES society, the weather was absolutely
perfect
and a bunch of people turned up so it was all good fun. We had a slight mishap at the bus stop when we realised that the bus timetables changed for the summer...on that day! Turns out that the service we wanted to catch no longer runs on a Sunday (this is
so
typical of me and public transport!!). Luckily we didn't have to wait too long for a different bus, so we all hopped on and went somewhere completely different!
We spent the day out walking in the countryside, stopped off for lunch in a field, then found a pub for a much needed cold drink! The field where we had lunch was opposite the most perfect house, can I live there please? The village we went to was absolutely gorgeous, full of little one-off shops and proper countryside cottages. The others all headed back a bit earlier, but me, R and H stuck around and caught the very last bus home. We decided that the best way to end the day would be a wander through the botanical gardens (where I stopped them every 20 seconds so I could take pictures...)and a pub tea. It was the best start to summer!
I took so many pictures! I've shared a few of them here, but my internets been on the fritz this week - I've been waiting for it to sort itself out but it hasn't - so I've only been able to upload these few! I'll be popping the othere up on
flickr
later in the week if you fancy a look! (and they'll probably end up here as well to be honest!)
I love days of spontaneous plans with friends, they really are my absolute favourites. Roll on summer!