I'm not really sure what my intentions where when I first started blogging. My first few posts weren't really that 'personal' - I grew up in a generation who had the dangers of the internet forced down our throats at every possible opportunity. We were led to believe that the only people who could possible be interested in us were lying about who they were and were very possibly sexual predators. Now, please don't get me wrong - being taught to think like that was in no way a bad thing. Children should most definitely be taught about the dangers of the internet, but I also think its important to realise that a lot of the people who use the internet are just like you & me (unless you are a scary stalker person? In which case please leave. Thanks.).
Anyway, I digress... The point being, when I first started my blog I was incredibly wary of writing personal posts - it just seemed a little bit odd to put my life online like that. I decided to do it anyway. I'm still not a super-personal blogger, I'll never have pictures of family events or anything like that on here and I'm probably never going to document my personal style for the world to see. This may also be because I don't have any... Today though, I've been so glad that I made that decision.
A couple of months ago Photobox had an offer on for print credit, it was such a good deal that I brought credit for 300 prints. I love having actual, physical photographs around and it seemed like the perfect excuse to get a load printed off. Last week I got an email to remind me that the credit needed using up, so I put aside a few hours to trawl through my hard-drive and pick which ones I wanted. I already knew that I wanted to do a minibook of summer 2012 - totally inspired by
Elise
. She makes
the
most amazing minbooks, and they just seemed like such a great approach to scrapbooking and the perfect way to document my summer. I'm not sure how many photo's I ended up with for the book - but its a fair few and it was a really good excuse to get some of those 'everyday' pictures printed that you wouldn't really stick in a regular photo album.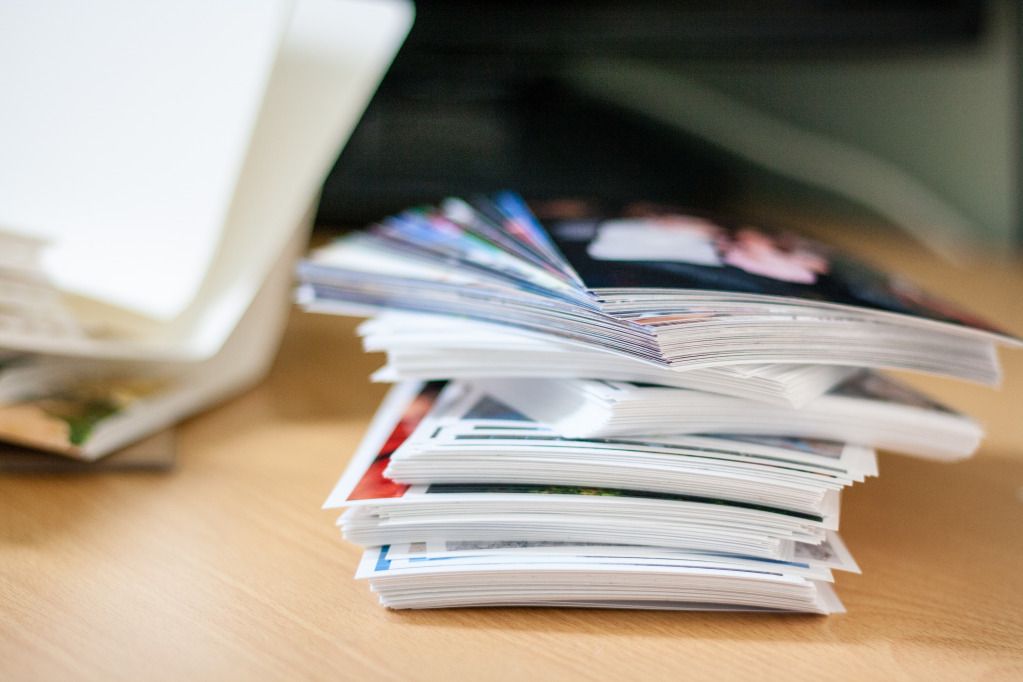 This is what 300 photo's look like...
The photo's all arrived this morning, which was pretty impressive considering I ordered them at half 5 on Wednesday evening! I wanted to get started straight away but I'm really trying to get in the habit of finishing one project before starting something else. I'm the worlds best starter and a really lousy finisher, I mean, I still haven't finished my album from when we went to Cuba last August. Which basically consisted of sticking photo's in a book and copying up my journal. Oops. I'm aiming to get it finished before mid-August... then it won't have taken me an entire year. So, before I even opened the box I made myself go out and finish staining the chair for my dressing table. Its looking pretty good, there's more varnish on the chair than there was on me so I'm deeming it a success. Also, by complete accident I've managed to stain it almost the exact same colour as the wood of my bed - so happy! It still needs a little something though, maybe a cushion. I'm gonna have a rummage tomorrow and see if I've got any fabric that'll go so I can whip one up over the weekend.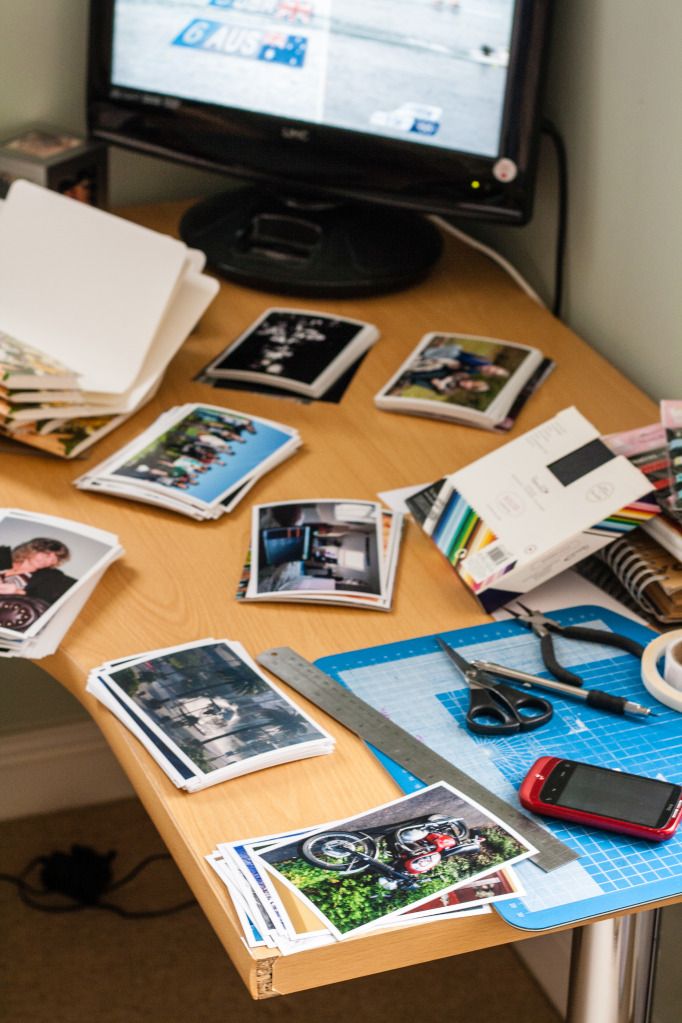 It's always so neat and organised before I start...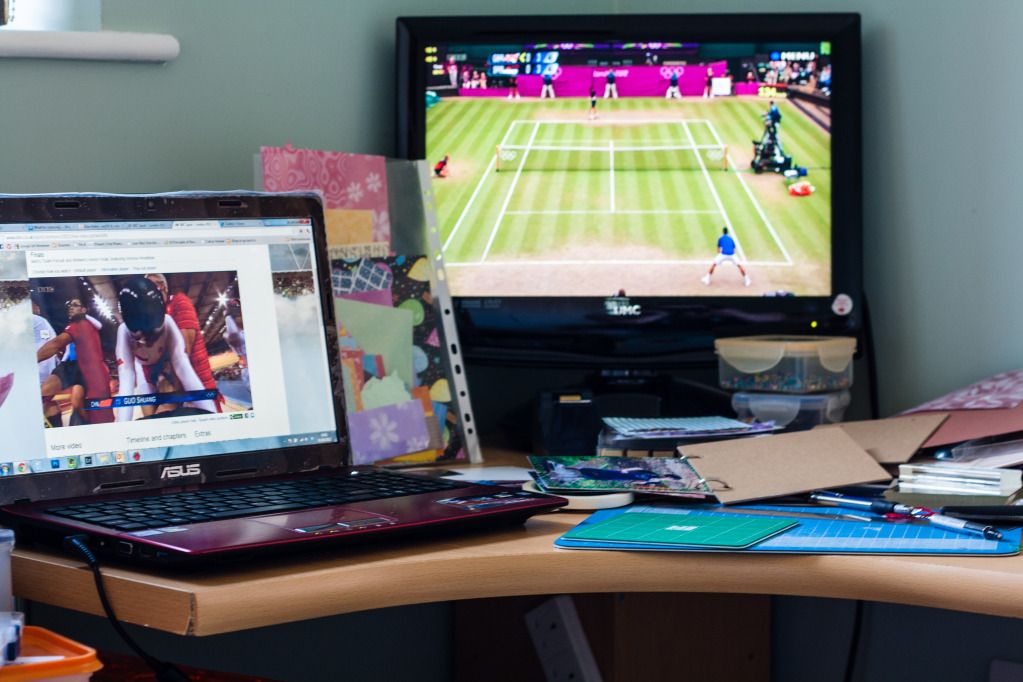 Command central. I couldn't decide what to watch... so I picked both.
I spent the
entire
afternoon working on my very first minibook, the olympics on the tv and craft supplies absolutely everywhere. I'm not the worlds neatest scrapbooker by a long shot. A lot of the pictures I'm using I've used in blog posts (or I've used others from the same day) and it is
so
nice to be able to go back and read what I wrote about them at the time. All the little details that I wouldn't have remembered - they're all there and I've been popping them in with the journalling. It'st turning it into such a personal project, rather than just being a collection of photo's with some descriptive journalling next to them. I love it. Really love it and I'm really excited to get it finished. Its the sort of project I could keep up with at Uni (she says) because its so
simple
, its just pictures and accents. No complicated layouts. Embellishments are optional. Pretty much I've used paper, scissors, stitches and double sided tape. That's it. And if I don't manage to keep up? I'll have a back catalogue of blog posts with ready made journalling.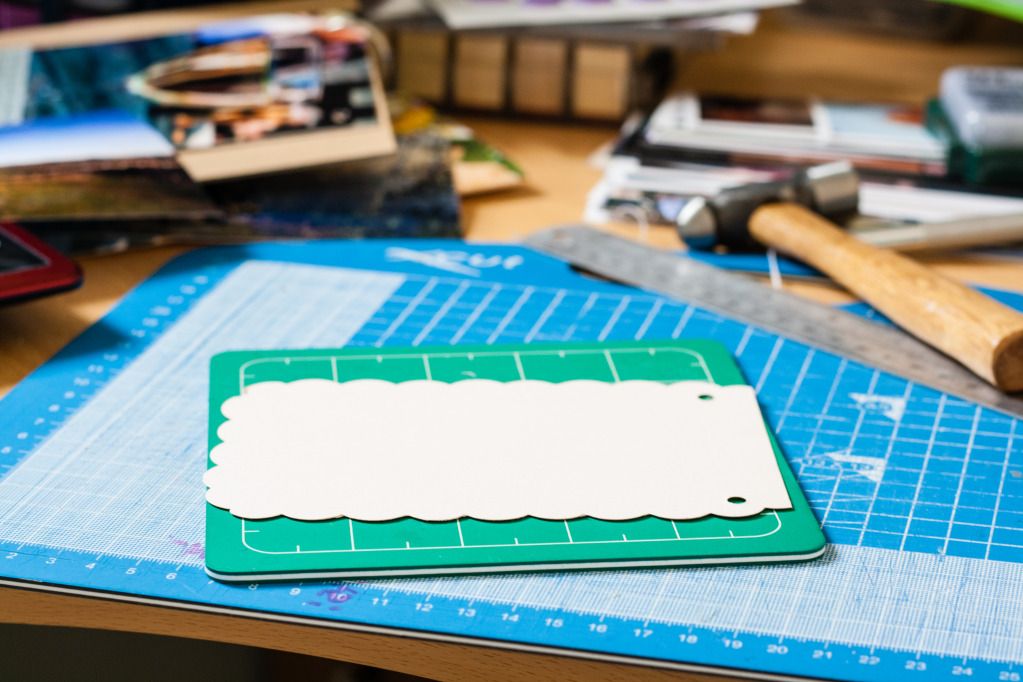 I'm really loving my scallop scissors right now.
Before I wrecked this with my handwriting it was actually pretty cute
So things might be a little bit different around here, there's probably going to be a lot more of the everyday stuff. I'm excited. On a side note,
Charlotte
also made the decision to turn her blog into more of a journal - you should visit her because she's awesome and hilarious. Seriously.