I've had quite a few comments/emails about my minibook (I wrote about it
here
,
here
and
here
) so I thought I'd share some more of it with you guys. Unfortunately most of the pages are pictures of friend/family so I won't be sharing those! I'm SO pleased with how this has all turned out (can you tell?), it was something completely new to me but I really loved the simple approach and how fast I got it all together. Speed is good for me, I get bored if projects drag on for too long.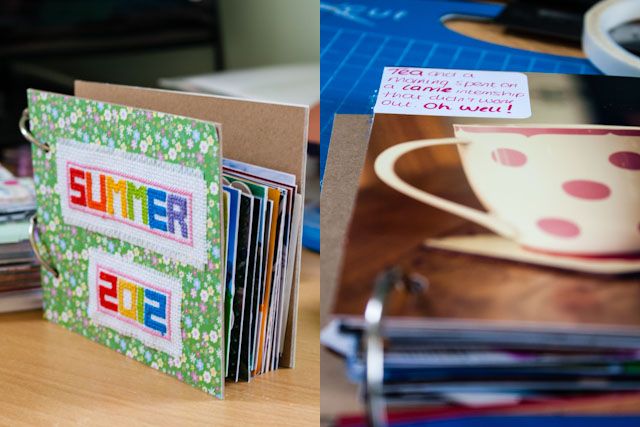 I didn't really choose a colour scheme for this project, which is unusual for me - usually when I start something I like to get everything together that I'm planning on using and go from there. With this though, I just took all my cues from the pictures. Some images I felt needed a little 'something' and other were fine on their own. I cropped a lot of them down so they were more focused on one part of the picture. If I was printing at home I would definitely have done this in Photoshop & enlarged a bit, but it still worked out pretty well doing it the other way around.
I'm a big fan of including small details consistently throughout a project to pull it all together - there are a lot of people I've come across who do this and it really adds something to the finished piece. I stuck with circles + rounded edges for the majority of my journalling for precisely this reason. I used a lot of stitching & I did it all by hand. Next time I'll definitely use a sewing machine - zig-zag stitch is time consuming!
I LOVED this project. As I said before, its
simple
and that's a huge thing for me. Traditional scrapbook layouts took me absolutely ages to get together - I could easily spend 2 or 3 hours on a 1 picture layout. As it stands at the moment, I have 31 pages in the minibook and although I spread it out over a few weeks, I probably could have completed the whole thing in 3 or 4 days. I'd also really recommend it for people who want to try scrapbooking out but don't want to invest too heavily in supplies. Scissors, glue/double sided tape, cardstock, papers, book rings, a few different coloured pens and photo's is pretty much all you need to get going.
P.S: I promise I'm not turning into a craft blog... I just like to make stuff sometimes.