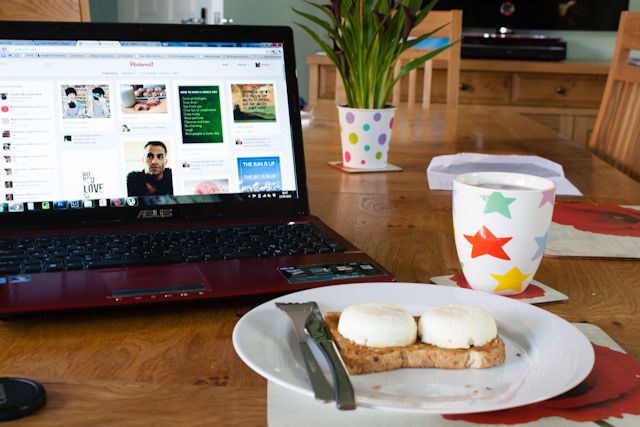 breakfast & pinterest/co-ordinating papers for a Spain minibook/ brunch at a new (to us) cafe/ writing birthday invites/ view from my window/ TGI Fridays
This week has been a good one. It was my last week at home so my main priority was spending as much time as I could with people before I left. I've also been researching flight prices + planning for
next summer
(getting so excited!) & planning my birthday party!
As of today though, my summer is officially over! I'm sitting here, back in my student house & it already feels like summer is a million years away. Hate that feeling! I'm excited about getting stuck into my third year & its good to be back but leaving home is always a bit of a wrench! I got up a bit earlier today to take Zak for a walk before the 4 hour drive back up here. We dropped my stuff off and headed out for the afternoon, Sam was pretty amazed at how big the Uni was & decided that I live in "the best city ever". So funny. I think I ate enough at TGI Fridays to last me the rest of the week - love that place! A phonecall with M last night informed me that we had slugs in our freezer, plaster was falling off the stairs & there was damp in my room... So I was a
tiny
bit apprehensive on the way here. It's not
quite
as bad as I'd imagined though, but we're off to the estate agents in the morning to try and get things sorted - wish us luck!
It's not all bad though, the Sainsbury's order has arrived, and we're back to looking at hilarious pictures of cats on the internet... Totally normal!