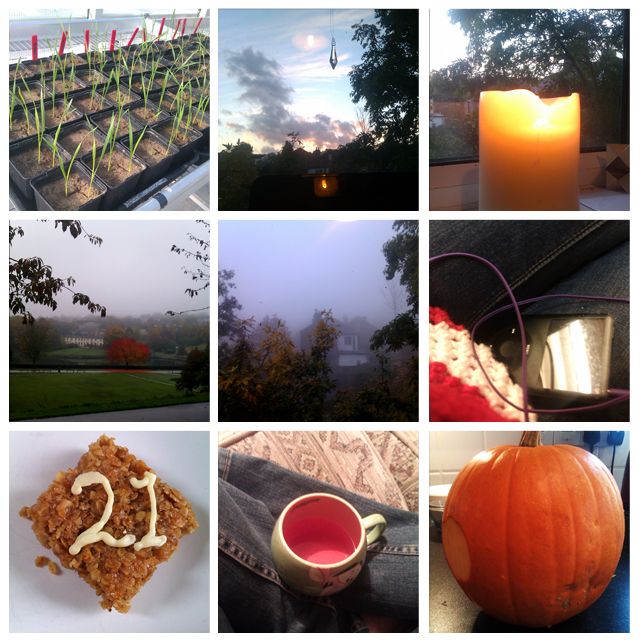 1// Wheat plants in the lab, they're getting so big! 2// Working late & watching the clouds 3// Candles on the windowsill 4// A splash of colour on a really grey day 5// The fog was like this all week, we couldn't see much further than next door! 6// My 'Where's Wally' jumper & listening to new music on the train 7// Birthday flapjack! 8// One of my girls just moved into her first place with her fiance & they didn't have any wine glasses... 9// Pumpkins ready to be carved for the charity firewalk I helped out with yesterday night
I can't believe its nearly the end of October!! Seriously, where has 2012 gone? I feel like its absolutely flown by, it seems like hardly any time at all since I started my research project and R & I were plotting for M's birthday. This week has been a bit of an odd one, we got back late(ish) Sunday night and I was completely wiped out from the weekend. Apparently I can't survive on 6 hours sleep in 48 hours, who knew?! On Tuesday a 'quiet' drink turned into an awesome night out, and Wednesday involved an entire afternoon in the lab followed by a late train home. I saw someone wearing a team sky sports jacket & probably looked like a total stalker trying to take covert pictures to send to M (the resident expert on cycling). Turns out it was nobody important...
I'm still loving the fact that my phone camera is working again & I haven't been able to get enough of this song recently...
This line in particular...
"And we'll hate what we've lost, but we'll love what we find"
This weekend marks the 6th anniversary of Dad's death, and this line is so true of how I feel about everything at the moment. Sometimes music can be exactly what you need.
What have you been up to this week? Have you felt like this month has flown by?