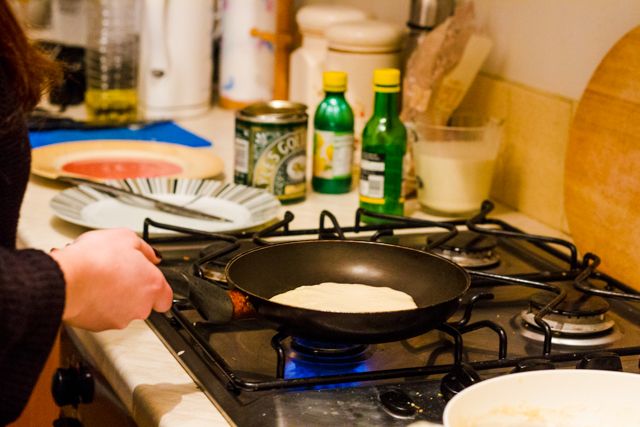 Yesterday evening R, Hazel & I made pancakes (surprise, surprise). For some reason I decided to make
double
so "I could have them for breakfast the next morning". This turned out to be a
really bad plan
and as well as having them for breakfast this morning, tonights dinner consisted of baked beans, MORE pancakes, and a fried egg. It worked better than I expected it to.
The pictures came out a bit rubbish (something about our kitchen is TERRIBLE for pictures). I had the ISO waaaay up & shot at about 4.0 but for some reason they still came out super-dark and/or really blurry. Carrying a tripod down 2 flights of stairs just to photograph pancakes seemed a
tiny bit
extreme, so I gave up and just stuffed my face instead. I'd been on an unsuccessful mission earlier in the day to locate chocolate spread and I'd resigned myself to lemon juice and sugar when Hazel turned up with After Eights.
After Eights.
In
pancakes
. So, so, unbelievably good.
What did you do for pancake day, anything special?